Android phones are vulnerable to security risks that occur through malicious app installed or through unauthorized users. There are however, several different ways that an users could safe guard their phone. Android mobiles have several security measures tucked away in the setting that can help you to keep your phone and data safe. Below are few of the settings you can use to keep your phone safe.
1. Find My Device
Imagine you lose your phone. This can be a very frustrating time. Luckily there is a feature in android called "Find My Device", that can not only help you find your lost phone but also remotely erase the data on your phone so that it doesn't fall into the wrong hands.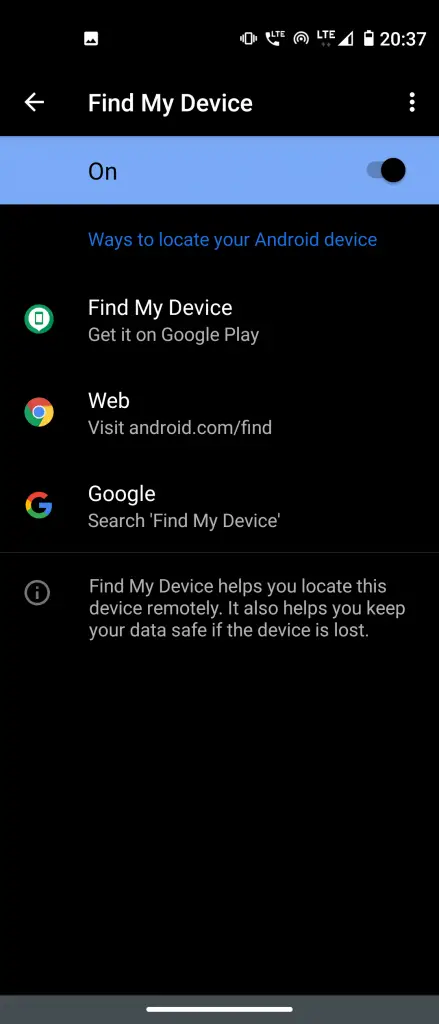 To switch on the feature, Go to Settings > Security and tap Find My Device and toggle the switch to ON. You also need to make sure that the device location on your phone is on.
To find your lost device, all you have to do is go to Google's Find My Device page and sign in with your google account used on the phone or download the Google Find My Device app  from the play store on any android device.
2. Google Play Protect
This app protects your phone from unwanted malicious apps. This feature scans your phone to find out if you have installed any malicious apps or malware by mistake. The feature is enabled by default and scans every new app installed and also scans the installed apps regularly to make sure that there are no anomalies.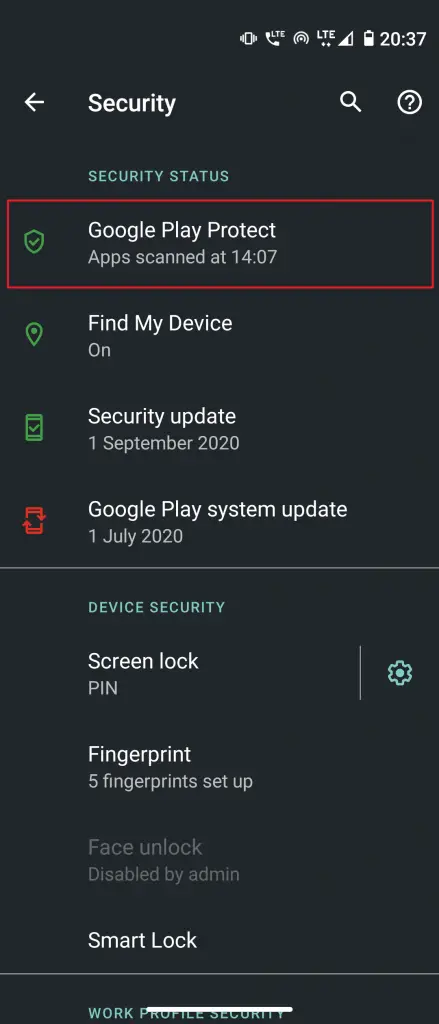 However, if you would like to run a scan manually anytime, you can go to Settings > Security > Google Play Protect and run the scan.
3. Lock Screen Options
This is probably the first feature anyone would setup on their phone. This protects your phone from being by unknown individuals.


To set up the Lock screen go to Settings > Security > Screen lock and setup up the pattern or the PIN Lock. Newer devices have options such as face unlock and fingerprint unlock that you can setup.
What you should also do is change the lockscreen time out. It is best that you set it to immediately or 5 seconds just in case that you phone gets misplaced/stolen and you do not want anyone to look at its contents.


You can also change the visibility of the contents when your phone is locked. To change this, go to Settings -> Privacy and Lock screen. Here select show sensitive content only when unlocked.
4. App Permissions
Most apps that are installed will ask you permission to access certain features on your phone. With the help of these permissions, apps would be able to acquire sensitive data from your phone. Therefore, it is very important that you review the permissions that each of the apps on your phone request before granting them.
To check which apps have acquired permissions, go to Settings > Privacy > Permission manager to view app permissions by category. Here you select a category, to see all the apps that have its permission.
You can revoke the access of the apps by clicking on them.
5. Google's Security Checkup
You can secure your google account by using the Android Security Checkup. Go to Settings > Google > Manage your Google Account. Now scroll the top bar to find Security and on top you will see We keep your account protected section; tap Get started here. This will show you various options such as removing devices, enabling two-factor authentication, and revoking third-party access, that are available to improve the security of your account.
6. Enabling Safe Browsing on Google Chrome
Google Chrome is the default browser for most users. What most people don't know is that chrome comes with an inbuilt Safe Browsing mode that keeps users safe from dangerous websites. The feature is enabled by default. However, it is best to check.
Once you open Google Chrome, tap on the three-dot Menu at the top-right, and select Settings. Here find Sync and Google services and tap Safe Browsing to turn it on.
These are some of the most important security features on android that will keep your phone and the data on it secure.